Preston Landon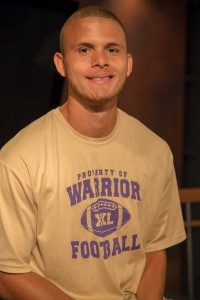 Assistant Director of Programming
My name is Preston Landon, and I am the assistant director of programming for WalTV. I am a senior from Seattle, Washington. My major is communications with an emphasis is in Public Relations, and I play cornerback on the football team here at Waldorf. I work  with the programming department of WalTV, helping to find ways to create a better TV station.
Before becoming a Warrior, I graduated from Shorecrest High School in 2012. I then spent two years at Everett Community College in Washington, where I played football and majored in journalism, helping work on stories for the Everett Clipper.
After graduating from Waldorf, I'd like to work in Public Relations or Media Relations for a major company or PR firm. I believe that my skills with video and audio make me more versatile and will help me accomplish anything I set my mind to.
Contact:
WalTV
Attn: Preston Landon
106 S. 6th Street
Forest City, Iowa 50436
Preston.landon@waldorf.edu