Courtney Chaffee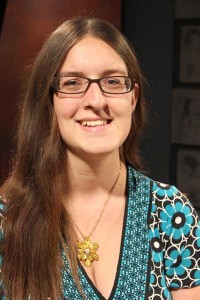 Director of Programming
Hello WalTV viewers! My name is Courtney Chaffee and I am from Dubuque, Iowa. This is my last semester at Waldorf. I am a Communications major with an emphasis in Public Relations and Digital Media. I have also been a member of the bowling team and the Waldorf Wind Ensemble for the three years I've been here.
I have been part of WalTv staff for six semesters now. I was the Assistant Director of Programming for two semesters before I earned the title Director of Programming. My job is to find new music videos to keep the station's content fresh. Also, I work closely with the production and promotions groups to ensure the newest material from students gets into the station.
I came to Waldorf determined I would be the next lead news anchor for the local news station back home, KWWL. Waldorf helped my dream take new direction. Even though being a lead news anchor still sounds appealing; my dream is to work as the lead public relations officer at a not for profit organization. I want to see myself helping change the world one person or community at a time.
When I'm not in master control working away on the station I'm busy around campus with other activities. Bowling and Wind Ensemble have been a major part of my time on campus and have helped create some amazing relationships. Many of my other on campus relationships come from my my time as a Resident Assistant in the dorm halls. This year I get a new opportunity by getting to work with the Graduate Assistants in Rasmussen hall, as well as working in Ormseth Hall. Also, I have been involved in GSA, the Optimists Club, theater, and hosted a show on KZOW.
I hope you're ready for all the changes coming to WalTV this year. Don't forget to follow us on Facebook and Twitter if you like what you see!
Contact:
WalTV
Attn: Courtney Chaffee
106 S. 6th Street
Forest City, Iowa 50436
Courtney.chaffee@waldorf.edu