Andrew May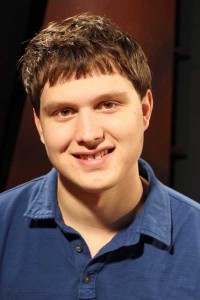 Promotions Director
Hey, I'm Andrew May, and I'm a junior at Waldorf University. I'm the Promotions Director for WalTV and have been a part of WalTV for the last four years. I originally hail from here in Forest City, Iowa, and Waldorf University has been a great experience for me.
As the Director of Promotions, I have the privilege to promote activities, events, clubs, and organizations on the Waldorf University Campus and in Forest City using Adobe After Effect & Premiere Pro and Blender. I has been rewarding and exciting to work with people and promote in the community and on the Waldorf Campus.
Besides WalTV, I am also part of the Waldorf Wind Ensemble. I am studying Digital Media and Graphic Design in the Communication Major at Waldorf University. I also help with odd jobs around the IT Department. When I am not studying, I enjoy biking, reading, and working on personnel video/ filming projects.
"This is WalTV Channel 55."
Favorite Film: Star Wars: The Empire Strikes Back
Favorite TV Show: Star Trek
Contact: 
WalTV
106 S. 6th St
Forest City, IA 50436
andrew.may@waldorf.edu